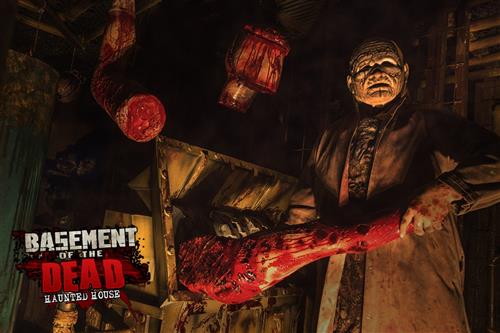 SHATTERED 3D
Shattered, the smashing clown, lost all sense of being human the day his famous sledgehammer trick malfunctioned, killing his wife and partner. He knew it had to have been the roadies fault for setting up the trick incorrectly or the pressure he felt from the crowd to do one more stupid trick! The hate and pain devoured his soul. Evil was all that remained. He went through the crowd like a hammer goes through a skull. When his rampage was over, 30 audience members and 15 workers found their final resting places in a puddle of their own blood. That was the last night Shattered the smashing clown was ever seen.

Rumor has it that the clown took refuge down in the darkest depths of an old building at 42 W. New York St. The locals call the building the Basement of the Dead. The story goes on to say that Shattered spent his time in exile praying to demons and learning to spread his evil across dimensions. His vivid nightmares are now becoming part of his resurrected circus. The rumor also says that all the souls he took that night followed him down there. They are keeping the smashing clown company.
Now, the circus tent is reopened! Can you hear the pipe organ in the distance? Shattered the smashing clown is longing to make you scream again. The show must go on! Come see SHATTERED 3D, The World's Best 3D Nightmare.
Check back as the Halloween season approaches for schedule and tickets!
Share Your Review
Have you experienced Basement of the Dead?
If so, then please considering taking a moment to share your review below.